Bob Corell's Ministerial Briefing on Climate Change
Hilary Mason on Creativity: Art | Hacks | Business
Gloria Steinem on The Importance of Civic Engagement
Butternut Street Akido Dojo, Washington DC
Abstractions on a Bedsheet, Bill Etra USF/Tampa
Ministerial Briefing on Global Climate Change
I met Bob Corell at Digital Earth 5 in 2008 where he presented the Ministerial Briefing on Climate Change that he created during his tenure at as the Program Director at the H. John Heinz Center for Science, Economics and the Environment.
His presentation seemed to me to be the "Graduate School Version" of "An Inconvient Truth." In order to make Dr. Corell's presentation available to a wider audience, I worked with him to videotape the presentation and uploaded it to YouTube. See Top Left Embeded Playlist
If you would like to better understand Obama's 9/2015 approval for Gulf Oil to begin drilling in the Artic and the request for new Ice Breakers for the US Coast Guard, watch the presentation.
UrbanReThink | An Experimental Community Organization
Worked to breathe life into UrbanReThink an experimental facility that where cyberspace intersected with Orlando creating a community space for serendipity. Identified opportunities to nurture community with lectures by speakers who were in Orlando presenting at a National or International event at Disney or the Orange County Convention Center. See Hilary Mason's Presentation on Left
In order to make UrbanReThink programming content available to a wider national and global audience, I worked with UR staff and other members of the community to livestream or videotape events. See Gloria Steinem's Presentation on Left
Butternut Street Aikido Shobukan Dojo | Idea Propigation
In an effort to introduce the spiritual practice of Akido to Washington D.C. I helped to realize the Aikido Shobukan Dojo along with Kim Barnes. We build the the first practice mats and shared the risk for supporting the facility to create a Dojo for Satome Sensi and help stand up a community space in DC in which to learn Akido. See video on Left
Abstractions on a Bedsheet | Early Digitally Generated Art
On the occasion of Bill Etra's lecture at USF during the first year of operation of SYCOM I helped to Bill realize "Abstractions on a Bedsheet" by booking the DEC PDP 11 Mini-Computer, music recording studio, video equipment and enrolled additional programming help with for the project. See video on Left
Up to that point in time, most computer generated art consisted of text images printed on paper with a line printer or CRT displays captured on 16 mm film such as Stan VanderBeek's work with Ken Knowlton at Bill Labs.
Early E-Commerce Systems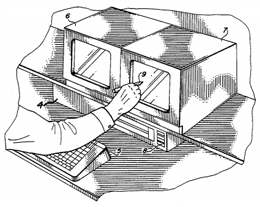 Designed and built the first point and click Hypertext E-Commerce System with sub-second response time for ordering renewal parts on complex systems in 1984. The inital project was developed for Steam Turbine Generator Appratus and was funded in part by Westinghouse's Energy Systems Division, now Siemens Energy.
The second and third generation systems were built with the assistance of Gary Orwig, and several talented Orlando programmers, some of whom are referenced on the patent disclosures below.
Software was copyrighted and a patent was filed and issues for the user interface design. The system predated the invention of resistive or capacitive touch screens and used a light pin or mouse. Images were retrived from an Sony analog optical disc using 12 media and the output was syncronized to the graphics cards in the computer.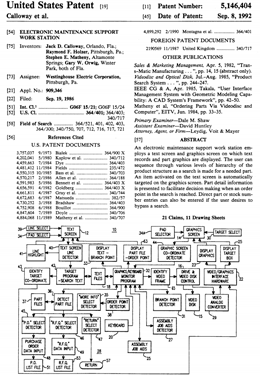 I worked with Jeffy Wyand at Lydig, Voit and Meyer to procute the above patent for the system software. Patents for the system were also granted by the Canadian, EU and Japaneese Patent Authorities.
---
Interactive Training & Simulation Projects
Developed an AN/SQQ-89 Part Task Simulator Trainer for the Naval Underwater Warfare Center. Responsible for design, prototyping, sofware methodology for courseware development and aceptance testing of delivered systems. 16 Mil+ Project
The AN/SQQ-89 Undersea Warfare Combat System is a naval anti-submarine warfare system for surface warships. The system presents an integrated picture of the tactical situation by receiving, combining and processing active and passive sensor data from the hull-mounted array, towed array and sonobuoys. AN/SQQ-89 is integrated with the AEGIS combat system and provides a full range of USW functions including active and passive sensors and underwater fire control.
Trident Shipboard Trainer
Developed a shipboard trainer for General Dynamics's Electric Boat Division for use on board the Trident fleet. Developed first prototype for acceptance testing and then supplied 10 additional units for a deployment test.
Problem Solving Skills in the Sciences | NSF
Teamed with Educational Publisher Synergistic Educational Technology Systems(SETS) and Columbia Community College to secure funding from National Science Foundation to develop a supplimental interactive cirricula materials for teaching problem solving skills for physics, chemisty and biology at the community college level.
Inital Grant was for creating the materials. Follow on grant based on review of completed cirricula materials was for the hardware deplyoment and performance testing.